At the moment we only have three black cows, and two newly purchased red heifers.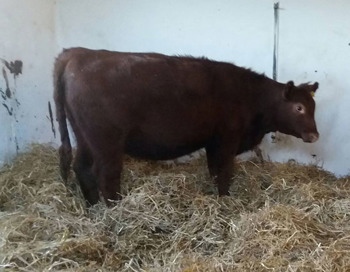 4961 Red Kirstin av Höganäs.
Born: 2016-02-06
BW 36kg WW 249kg
Sire: 1326 Red Sandstorm av Stehag.
Dam: 672 Kirstin av Knopparp
MGS: 1214 Red Mullberry av Davidstorp.

Mix 106 Pix 109 Fix 108 Aix +15

We couldn't resist this heifer when we saw her! We went to the Höganäs herd to choose our pick-of-the-herd incalf red heifer that we won the bidding on at the Angus elite sale. Instead of coming home with just the heifer below, we bought this one to.
A very promising conformation, balanced EPD and calm temperament is why we fell for her. We plan to train her for the show at Mila in February 2017.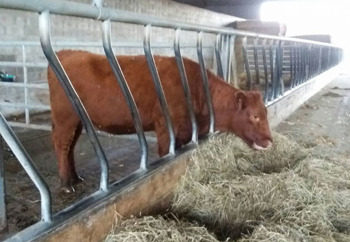 6926 Red Miss Freya av Höganäs
Born: 2015-04-08
BW 35kg WW 273kg YW 422kg
Sire: 6005 Red Pluto Thunf av Fogdegården ET
PGS: Red DMM Brylor Thump 2T
PGD: DMM Essence 67M
Dam: 4768 Red Miss Freya av Höganäs
MGS: 936 Red Nebulosa av Stehag

Mix 94 Pix 117 Fix 108 Aix +17

We chose Miss Freya as our pick-of-the-herd of Höganäs red incalf heifers. Despite grazing a poor nature reserve she still has a very good yearling weight in combination with good conformation and atractive EPD. She is very quiet and calm which is what we find very important.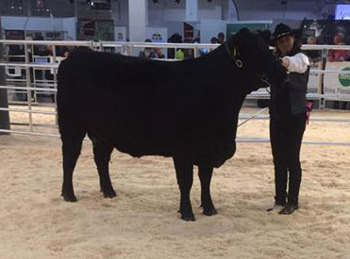 48 Friskatorpets Erinda
Born: 2014-03-26
BW 42kg WW 328kg YW 449kg
Sire: 127 Rock av Hagen
Dam: 5488 Friskatorpet Erinda
MGS: 994 Malt av Sjövången T-108

Mix 100 Pix 109 Fix 107 Aix +12

Erinda was Reserve Champion female at Mila 2015.
Miranda has won the national showmanship with her twice.
Christel has competed in showmanship with her to, resulting in a 3rd place from many entries.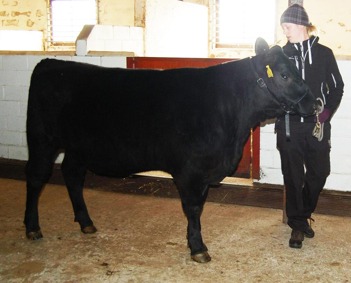 5560 Friskatorpets Bambina
Born: 2012-03-21
BW44kg. WW 311kg
Sire: Malt av Sjövången T108
Dam: 4404 Friskatorpet Bambina
MGS: Janson av Friskatorpet

Mix 101 Pix 115 Fix 95 Aix +10

Bambina has had a bull calf, 41kg (korrigerat) by Real Deal av Sjövången! Gå till sidan >>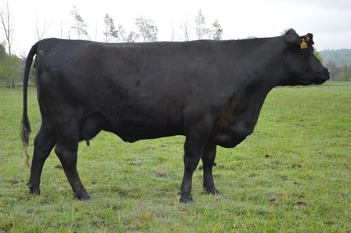 5090 Friskatorpets Erytrea
Born: 2010-04-09
BW 41kg. WW 308kg. YW 481kg
Sire: Friskatorpet Red Joy
PGS: Red Leachman King Rob 8621
Dam: 3769 Friskatorpet Erytrea
MGS: Herakles av Ryderna

Mix 101 Pix 102 Fix 102 Aix +3