7420 Bårarps Miss Firefly ET 3rd place in the European Championships!
Our heifer placed 3rd from Hereford females from 22 countries! Given the hard competition and the fact that she'd just turned 1 year old when the photo was taken, this was a very unexpected surprise!
Huge thanks to PJ Budler, Herefordbreeder.net and the judges, Lance Leachman (Canada), Jean-Pierre Martins Machado (Brazil), Alistair & Eileen McWilliam (New Zealand) and Rosalish Goulding (Ireland).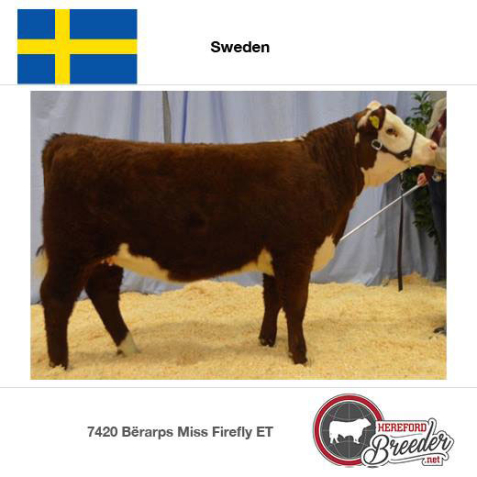 Miranda elected onto the board of the Swedish Angus Association!
It's a great honour for me to announce that I have been elected onto the board of the Swedish Angus Association. I'd been asked earlier, but refused due to my position with the Hereford Association, but I left this year after 15 years, so when the Angus association approached me about joining them again, I just couldn't refuse. Angus need to increace in popularity in Sweden to produce quality livestock for cross breeding with Hereford to increase the quality of beef in this country. Both breeds are equally important in my point of view. I will certainly do the best I can to take the breed forward here.
482 Bårarp Romeo first place on the Top List!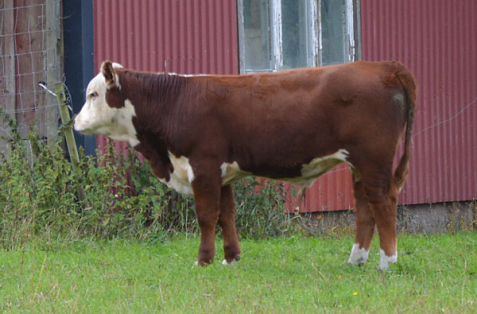 In Sweden we have Top Lists for the bull calves with the highest Total Merit Index. Our bull calf, Romeo is at the top of the list after the November updatet with a TMI of + 25 For maternal he has 113, production 122 and Birth index 110 (100 is average for the breed) See the full list here >>
At the moment he is at the performance test station where his average daily gain at the moment is 1911gr. The test ends in March. For more information about the test station, click here >>
2017-10-30 VB Nando of Bårarp the most used Swedish AI sire!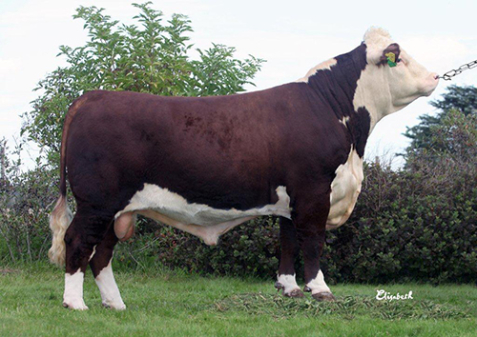 The Swedish AI sire, VB Nando bred here at Bårarp is the most used Hereford AI sire between September the 1st 2016 and August 31st 2017. In total 255 straws have been used on purebred Herefords which puts him in 1st place of all breeds. On dairy cows / crossbred cows, a total of 2208 straws were used which also places him in 1st place over the Hereford AI sires.
Read more about him here at Viking Genetics here >>
He is Homozygous polled and HYF. Sire is a Supreme Champion. Dam is from the wellknown KATIE family.
Christel took 2nd place in Showmanship in Canada!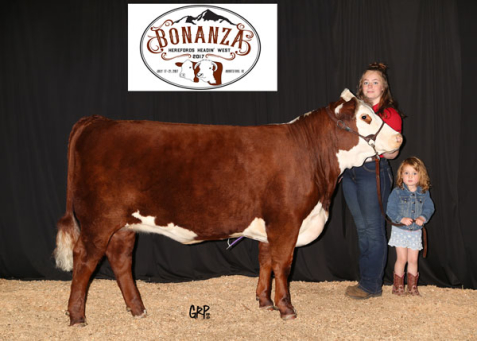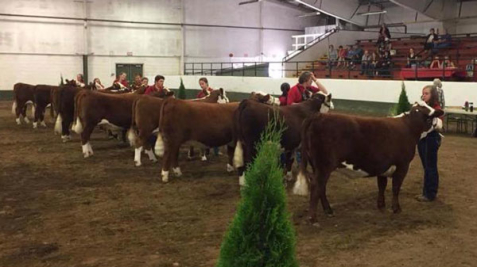 Christel was invited to join Jill & Cole Harvie for 3 weeks this summer and take part in the Bonanze youth show in Abbortsford. Christel took part in the showmanship where she was one of two in her group of 9 to be pulled out to the championship. Her dad and I are just so proud of her and can't thank the Harvies enough for this huge opportunity!
2017-03-01 Buck of Folkestorp Supreme Champion again!