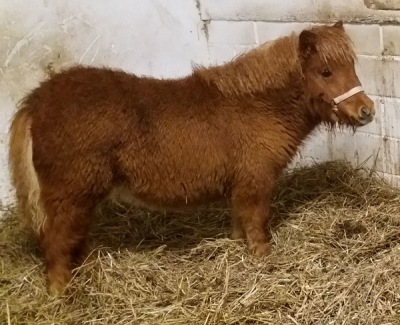 Miniature filly, chestnut, born 2017-06-19.
Sire: Almnäs Ivory (*Super-Such) Dam: Almnäs Miss World (*Super-Such) Sire of dam: Parlington Pimpernell (Elit)
See full pedigree here >>
I'll never forget the first time I saw Honeybee's dam, Almnäs Miss World at a show in 2010. I was sure she would be named Supreme Champion or Best In Show as we call it here. But, our standard stallion, Dalsgårds Juventus took the title with Miss World taking the reserve. That is the only time she's been shown that she didn't take the Supreme! A pony that fell straight into my heart and that really started me thinkning that maybe we should get a mini one day. I'll never forget her! And now we have a daugher from her!

*SUCH is an award you can apply for, where criterier must be met, meaning "Swedish Show Champion" and Super-Such is just that, "Super Swedish Show Champion" with even more criteria that must be met.