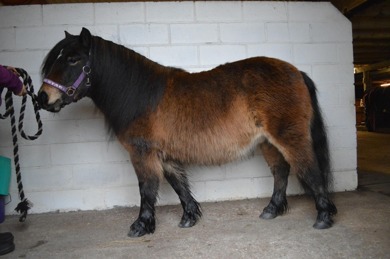 Mare, bay with a star. Born 2010-02-28.
Sire: Dalsgårds Juventus RS 526. Dam: Klockarens Jane. Mgs: Mässeboda Rossman.
As you can see from the photo below, Bella was raised on a bottle. Her dam, Jane, got intestinal prolapse after foaling and despite all efforts from the equine hospital, her life could not be saved. She was never a show champion, but she was our champion and our daughter, Christels everything. Christel placed 3rd in the lead rein class at the European Shetland Games in 2006 and the class was one by the family at Transy in Scotland. Jane won two of her three pony trotting races after which she was put in foal. Bella will never foal due to being born with a slight umbilical hernina. She will never leave this farm. She is a good leader mare in which ever herd she is in.