Our butique, soon filled with new goodies!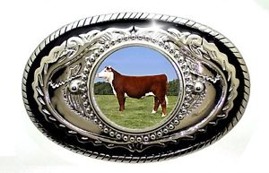 We have, at last and upon request from a customer, found a good quality belt buckle with a Hereford on it! These are for sale at 416 SEK + postage. You can order them by sending me an email.
miranda.lysell@hereford.nu
Would you like a personalised belt to go with it? I Bought one fror my husband from a saddler who makes them from Swedish cowhides which are also tanned in Sweden - think quality English leather, same fantastic quality! Not sure if my saddle speaks English, so I'll help with the contact. Price, at around 700 SEK plus postage.
2014-09-20 Bårarps Diamond Moon got approved at the stallion evaluation!
Bårarps Diamond Moon was sold as a foal to Kristin Håkansson, Kålkulla stud in Lerum. And now, the age of 2½ he has been approved with 98798=41p! He is by our stallion, Dalsgårds Juventus SUPER-Such (Super Swedish Show Champion) and out of Nesette entered into the stud book with 40p, palomino roan and by Epol. Diamond has a full sister, Bårarps Candy who was awarded with a diploma at the 3-year old evaluation 41points to.
We congratulate the owner!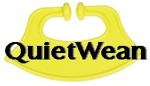 Are you (or your neighbours) tired of all the bawling at weaning time? With QuietWean noseflaps, bawling will be a thing of the past! I can sell them to you no matter where you live. They are easy to put in and need to stay in only for five days. Watch this video on how to use them >>
They are sold in a bag of 25 and cost 560 SEK plus postage.
miranda.lysell@hereford.nu

VB Nando - semen available!
Semen is now available from VB Nando T-108. Here is a direct link to his page at VikingGenetics >>
BW 43kg WW 350kg YW 627kg. Average daily gain 1688gr.
Conformation lineage scoring: Body type 82, Mucling 88, legs 84 total 86
Size 6,4. Hoof status 10 out of 10. Scrotal size 37cm.
Maternal 102 Production 114 birth 109 TM +13
Pedigree
Sire: ÄPH Super Tuborg - Supreme Champion at Swedish National Hereford Show 2012
PGS: Remitall Super Duty,
PGD: 283 Moeskaer Megan)
Dam: 7248 Bårarps Katie
MGS: JSF Dice
MGGD: 7196 Bårarps Katie, winner of the Heifer calf class at the Swedish National Hereford Show in conjunction with the WHC 2008 and dam of 375 Bårarps Nashville, Grand Champion bull at Elmia 2013.
MGGS: BPH Hollywood ET
MGGGD: 1647 Munka Katie ET Supreme Champion the Swedish National Hereford Show in conjunction with the WHC 2008
MGGGS: Remitall Olympian

VB Nando is backed by a truly amazing cow family. They can do great both in production and in the show ring! The complete package!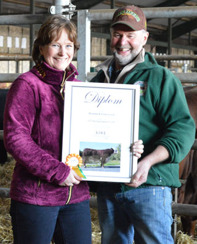 Performance testing sale.

We have been awardes the prize for the breeder of the SIRE-Prize winner 2013,
Bårarps Jaguar T-110! We thank Agria and the performance testing station.

We bought the high selling Hereford bull, Egilo av Gylteboda T-102, for 52.000SEK. Our own bull went under the hammer for 26.000SEK to
Lars-Göran Jönsson, Kågeröd. Good luck to you. Another bull we owned, Bårarps Nando, was sold to AI company, VikingGenetics.

We wish to congratulate Eva Nilsson, Folkestorp who was awarded the prize for the best Hereford bull at the performance testing station, Ares av Folkestorp who was sold to AI company, Viking Genetics. Ares is by, Bårarps Las Vegas who has the same dam as Jaguar.
2014-03-26 Bulls from Bårarp had the highest score for marbing!
All the bulls at the performance testing station were scanned for ribeye area, fatt and marbling. Both our bulls, Bårarps Nando and Nevada were the highest scoreing Hereford bulls and had even scored great for ribeye.

2014-03-11 Resultats fron the performance testing station, Bårarps Nando T-108 sold to Viking Genetics!
2014-02-16 Mila 2014!
Two Reserve Champion Titles for us at the national show at Mila.
We thank the judge, Per Mårtensson and NAB (National Beef Association)
who arranged a truly great show! We wish to congratulate the co-owner of Memphis, Lennart Svensson, and the owner of 575 Silvia av Gylteboda who was Champion female, Supreme Champion Hereford and Best In Show female!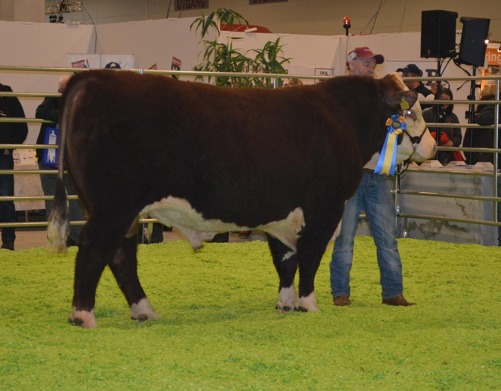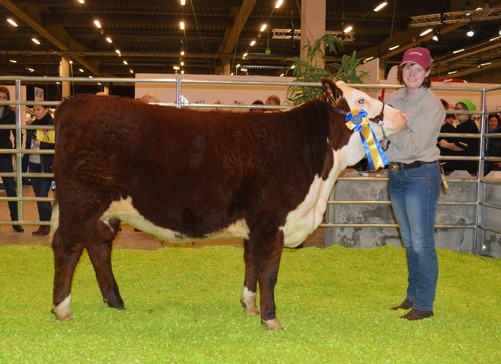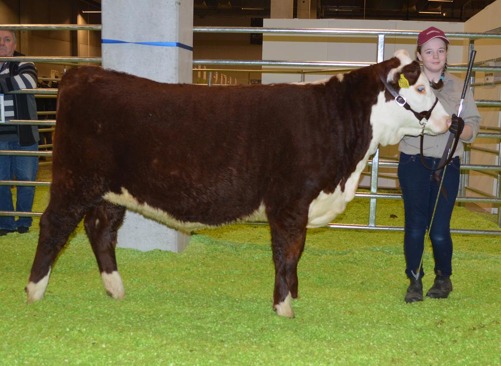 2014-01-18 Welcome to our new website!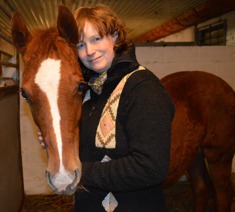 2014-01-10
Our new horse has arrived!
Exactly a year after that our American Paint Mare was put to sleep after fighting for her life for five months, our new western horse has arrived. After "Kissy" I said I would never own a riding horse again. None can ever compare to her. We bought a 14.1hh to our daughter, but Einar got on to me all the time about buying a Quarter foal, cause life goes on.

Our new baby, Angels Share has a gold lined pedigree. She is by Denmarks best cutting horse, Play Upon A Star and out of an import from the USA by Docs Lynx. I thought hard while on the look out for something interesting. Angels Share has Peppy San in her breeding, which is quite fun as he had been kept at Douglas Lake Ranch in Canada where we had visited in 2012. We got to see his registration papers and a saddle he'd won at a world championship. Another thing that I found facinating was that a mare called Flit is in her breeding, and she was also in Kissys...