VB Nando of Bårarp sells at the sale of performance tested bulls on March the 27th!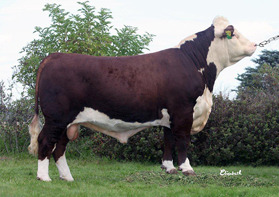 Nando is homozygote polled. He was bought by VikingGenetics last year for their AI program. His sire, ÄPH Super Tuborg was Supreme Champion at the Swedish National Hereford Show in 2012. He has a daughter who won a class from 9 at the National Show in 2013. Nando's dam is from the Katie family which is one of the best cow familes on our farm. Her dam,7196, was the best heifer calf at the Swedish National Hereford Show in 2008 in conjunction with the World Hereford Conference and her dam,1647 Munka Katie ET was Supreme Champion. There were 70 Herefords! Munka Katie has a full brother in England who was named "Sire of the Year".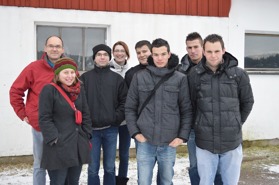 2015-02-04
Visitors from France!

Students from an agriculture collage called ISVT in Vals Pres Le Puy in France together with their teacher, Jean-Marc Pellerin came to visit our farm today. They were interested in beef production, sheep, dairy and horses. One student comes from a pedigree Charolais farm and has sold a bull for 30.000 euro!